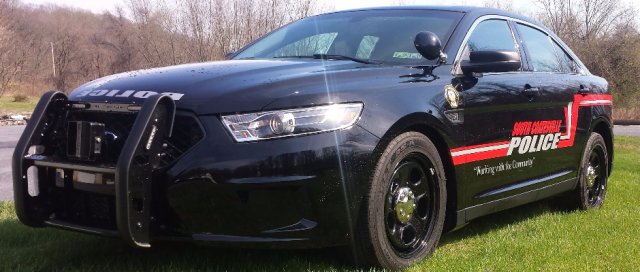 South Coatesville Police
Hello!!!
On behalf of the Officers, I would like to welcome you to the South Coatesville Police Department's webpage.
If you are not familiar with our Department and your first contact with us is online: We would be pleased to hear from you! Please let us know what your needs, questions, and/or concerns are; we will be more than happy to help. We can be reached at 610-384-3500 and by fax at 610-384-0798. You can also contact us at our e-mail address: police@scpolice.net. We are looking forward to hearing from you.
In brief, you should know the following about us: our Department was established in the early 1940's and has been responsible for providing police services to the Borough of South Coatesville and the surrounding communities ever since. Our specialty is in the area of community relationship.
Our Department is located at 134 Modena Road, S. Coatesville, PA 19320 (across from the Citadel Bank).
Mayor John D. Long
Mission & Values
Law enforcement is a many faceted profession. As such, the South Coatesville Police Department (SCPD) is a many faceted organization with several purposes.

The primary purpose of the SCPD is the protection of life and property for the residents of the Boroughs of South Coatesville and Modena regardless race, color, creed, sex, religion, sexual orientation, age, national origin or financial status. This protection is provided by the fair and equitable enforcement of the laws of the United States of America, the Commonwealth of Pennsylvania, and the Ordinances of the Boroughs of South Coatesville and Modena.

The SCPD will strive to render aid to those in need and provide, when possible, all appropriate services to not only borough residents, but to any person who is in need and to provide effective leadership, training, public education, and professional growth to its citizens.

Through diligent patrol, the SCPD will endeavor to identify, pursue and apprehend offenders, maintain a proactive patrol attitude in order to reduce the opportunity to commit crime, interact with the citizenry, maintain order, provide miscellaneous police services, and to ensure the safe and expeditious movement of vehicular traffic on public roadways.

The SCPD shall strive to provide a working environment and career opportunities for its employees so that services are provided with integrity, professionalism, mutual respect, and concern. The SCPD is comprised of dedicated officers committed to exceeding the highest standards of professionalism and personal ethics.
On the occasion when an officer is not available, the Boroughs of South Coatesville and Modena are served by the Pennsylvania State Police, Embreeville barracks. It is the Department's goal to provide citizens a safe community in which to live, work and travel. A partnership built upon leadership, performance, sensitivity, integrity, accountability and high ideals.
Some Photos of our Vehicles & Officers
POLICEMAN'S PRAYER TO ST. MICHAEL

St. Michael, Heaven's glorious Commissioner of Police, who once so neatly and successfully cleared God's premises of all it's undesirables, look with kindly and professional eye on your earthly force. Give us cool heads, stout hearts, hard punches, an uncanny flair for investigation, and wise judgment. Make us the terror of burglars, the friend of children and law-abiding citizens, kind to strangers, polite to bores, strict with law-breakers, and impervious to temptations. You know, St. Michael, from your own experiences with the devil, that the policeman's lot on Earth is not always a happy one; but your sense of duty that so pleased God, your hard knocks that so surprised the devil, and your angelic self-control give us inspiration. And when we lay down our night sticks, enroll us in your Heavenly Force, where we will be as proud to guard the throne of God, as we have been to guard the city of men.
Amen. [Top]
South Coatesville Borough